Daugherty Construction, Inc.
Northeast Ohio's Roofing, Siding, Window and Garage Experts since 1978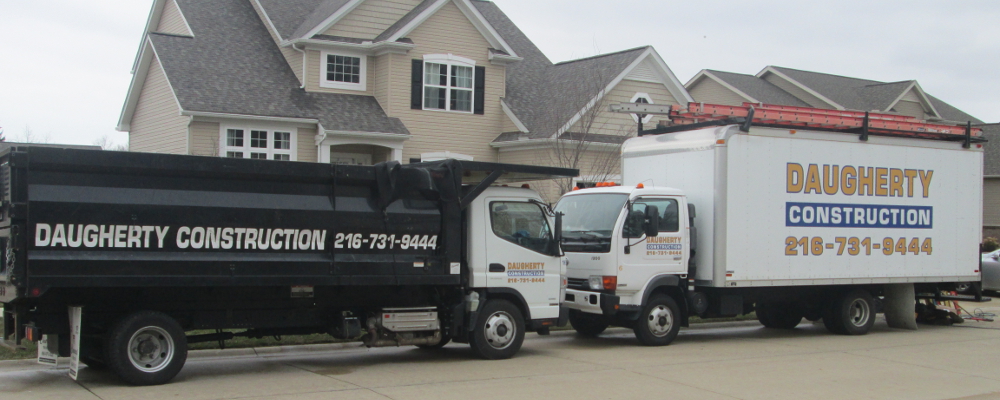 About Daugherty Construction
Hal Daugherty started roofing in 1977. In 1978 He started his own roofing business working with his brothers so that they could finance their college educations. The business grew as word spread of their high quality of work and dependability.
Mr. Daugherty graduated from Ohio State University in 1983. After graduating he decided to concentrate his efforts on the growing roofing business. The business that had begun as a summer effort became a year round full service business specializing in residential and commercial roofing.
In 1986 Mr. Daugherty expanded the business to include new home construction and remodeling. Since that time Daugherty Constructions, Inc. has built many homes throughout Northeast Ohio. In 1999 a full time siding crew was added to complement the existing residential and commercial roofing work for the company.
Daugherty Construction has been located in Euclid, Ohio since its inception. We have been at our present location, 22460 Lakeland Blvd, since June 2002. We continue to enjoy steady and profitable growth through our team of dedicated employees and the loyalty of our customers.
The years of experience serving each of our customer's individual needs in both residential and commercial construction have made us one of the outstanding roofing, siding and window contractors in Northeast Ohio. We are proud to give our customers only the finest quality materials and prompt, reliable service.
Our team of trained professional craftsmen utilize modern equipment to assure that the job is done properly and efficiently the first time. Our quality and dedication to service are extended to each and every job. We are a unique service company concerned about your individual roofing, siding and window needs.
Please let us know how we may be of service to you. Call us today at (216) 731-9444 and tell us what you need.